As we start the shift into the holiday seasons, there's no doubt that Halloween is the kick off event to fall. People start gathering pumpkins, decorating their homes with cobwebs, and not to mention stocking up on delicious candy to get into the Halloween spirit. Whether you have kids that trick-or-treat or you just want a fun night in on your own, there are plenty of ways to celebrate the Halloween season in the comforts of your home. 
Read: A Homeowner's Guide to Decorating, Staying Safe, and Getting Spooky
"Boo" Your Neighbors
Fill a bucket with some fun activity books, candy or any other special treats and be sure to leave instructions to "boo it forward" to other neighbors. Also include a flyer to let other people know you've been "boo'd." You can find stationary at Target now for assembly-ease!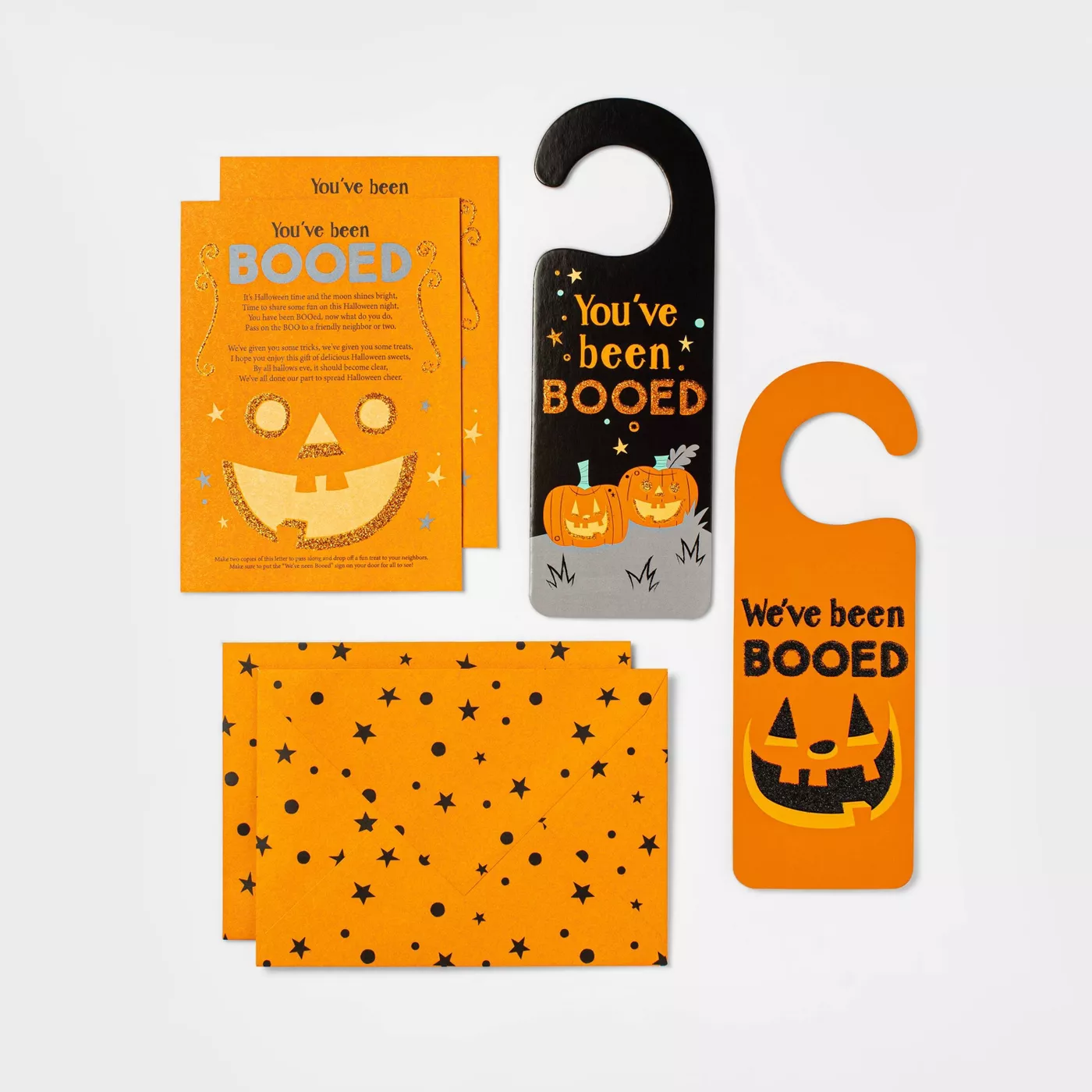 Paint or Carve Pumpkins
This is a Halloween classic, and even as an adult it's one of my favorite past times for Halloween! If you're worried about your pumpkins not lasting through the season, you can paint them instead of carving. After you paint them, give them a coat of clear poly to lock in your paint from the elements. If you really want to extend the life of your pumpkins, soak them in a bucket, or sink of a mixture of 1 part bleach to 4 parts water for a couple of hours. Rinse and let them dry out a bit.
Read: Feeling Spooky? Our Top 10 Inspiring Halloween Porch Ideas from Pinterest
Movie Night
Pop some popcorn, grab your favorite Halloween candy, and cuddle up for a night of spooky (or not so spooky) Halloween-themed movies. If the weather cooperates, take the movie night outdoors on your DIY movie screen. You could even invite friends of family over to spread out and enjoy a movie or two. 
Scavenger Hunt
Make up a list of Halloween inspired items or things found outside, and drive around to look at all the decorated houses to see who can find all the things on the list. You could even break up into groups and do it virtually with anyone. Take a picture and text it to the other group to prove you found the items on the list.
Fire Pit and Food
Since the weather may be a bit cooler, set up a fire and make an outdoor dinner, roast some marshmallows and throw the ultimate gourmet s'more party. Helpful hint: Use some of your favorite halloween mini chocolates to create and taste test new s'more recipes!
Read: How to Build an Outdoor Stone Fire Pit 
Sensory Halloween Games
Peel the skin off of a grape and place them in a bowl and add some spiders. Blindfold someone and have them reach in to see how many, or how fast, they can find all the spiders. Another great idea is to cook and cool spaghetti, banana peels, olives, bits of pipe cleaner, wet yarn or any other fun idea you can come up with.
Halloween Piñata
Who says birthday parties are the only parties to have fun?! Make your own ghost piñata and fill it with all kinds of Halloween candy. Or if you're an adult, plastic mini bottles of liquor. Take turns hitting the piñata with a stick and have fun enjoying its contents. Try this fun, DIY ghost piñata from Stephanie of Make + Tell.
Read: How to Throw an Adult-friendly Halloween Party + Cocktail Recipe!
Haunted Gingerbread House
Grab your graham crackers, frosting, candy corn, bubble gum balls, jawbreakers and other fun candies to create your own haunted gingerbread house. Make it even more interesting by having each family member decorate their own and take it to social media and have your friends and family pick their favorite.
Read: Creating DIY Halloween Decor from Items You May Already Own
It's clear to see that trick-or-treating isn't the only Halloween fun to be had this fall. There are plenty of things to do in and around your home that will make lots of memories for you and your loved ones. All it takes is a little imagination to think outside the cauldron.